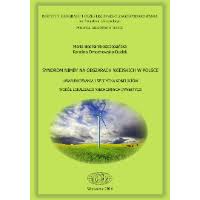 RESEARCH PROJECT ON THE ATTITUDES OF LOCAL COMMUNITIES TOWARDS INVESTMENTS
Together with the Institute of Geography and Spatial Organization of the Polish Academy of Sciences, we carry out a research project on the attitudes of local communities towards burdensome investments. The project financed by the National Science Center is entitled "Application of the concept of the sense of place and social capital to the analysis of spatial conflicts of the NIMBY type in rural areas in Poland". One of the key elements of the study is the assessment of the impact that residents' opposition to unwanted investments has on the process of locating these investments and spatial planning in municipalities. NIMBY (Not In My BackYard) conflict is a specific type of spatial conflict in which the local community is the main entity (opponent of the planned investment), expressing opposition to changes in spatial development in the vicinity of its place of residence while recognizing the legitimacy of implementing this type of investment at all.
As part of the project, we conducted questionnaire interviews in eight locations: Zielona (commune of Kuczbork – Osada, Mazowieckie voivodeship), town of Kruszki, Iwaniszki, Pawłówka, Blenda, Łanowicze, Hańcza, Przełomki (commune of Przerośl, Podlaskie voivodeship), town of Koziegłowy (Czerwonak commune, Wielkopolskie voivodeship), town of Lublewo (commune of Kolbudy, Pomorskie voivodeship), town of Biesiekierz (commune of Biesiekierz, West Pomeranian Voivodeship), town of Jeżowe (commune of Jeżowe Podgórze, Podkarpackie voivodeship), town of Suchodaniec ( Izbicko Commune, Opolskie Voivodeship), Kurzelów (Włoszczowa Commune, Świętokrzyskie Voivodeship). The interviews concerned the views and attitudes of residents towards the location plans in the vicinity of their places of residence for burdensome investments such as wind farms, livestock farms or waste incineration plants.
The project is to last 2.5 years. Its effect will be primarily a creative contribution to the international state of knowledge on the determinants and mechanisms of the course of NIMBY-type conflicts. Anglo-Saxon countries are in the lead in this field. The most important effect in the empirical dimension will be the recognition, based on in-depth studies, of the regularities and mechanisms of the course of NIMBA conflicts, taking into account: the type of investment, the role of place, and social capital, and the effects of the conflict. Spatial diagnosis of conflicts in rural areas in Poland and the identification of regional regularities are important here. The developed recommendations for the participation of local communities in spatial planning, having a practical dimension, will be forwarded to the central administration responsible for spatial management and to the minister responsible for rural areas.